Blazing Trails: A Look At The Jeep Name
Blazing Trails: A Look At The Jeep Name
Posted on August 31, 2020
Jeep Wrangler is one of the more iconic vehicles in North America with a vaunted lineage going back more than 75 years. But what does "Jeep" even mean? Over the years several theories have emerged about how it got its name. Are the origins of the name really something more mysterious than shorthand for a "General Purpose" vehicle?  
Introduction
The vehicle that would eventually become the iconic Jeep brand was adopted by the U.S. Army in February of 1941, just in time to get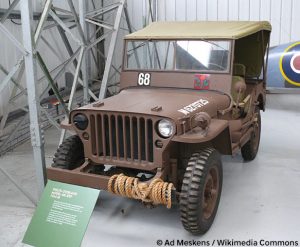 involved in WWII. The Jeep's original designation, contrary to popular belief, was not "General Purpose" but simply Willy's Overland Model MB. So, where did "Jeep" come from? 
The first known contemporary appearance of the term "Jeep" appeared in a Washington Daily news article from 1941. The author, Katharine Hillyer reportedly heard soldiers calling it a "jeep" and when she inquired about the odd name, the test driver indicated that he had heard other soldiers calling it that. As it turns out the term "Jeep" has been a part of military parlance for quite a while and has several different meanings that could have contributed to the overall Jeep name. 
Other Potential Origins:
A term for raw recruits: As early as WWI, the term general-purpose – G.P. or "Jeep" – was used informally for untested hardware of both the mechanical and biological kinds.

A military dictionary "

Words of the Fighting Forces"

identifies a Jeep as a "four-wheel-drive vehicle…used for reconnaissance or other duty…a term applied to bantamweight cars, and occasionally to other motor vehicles"

In the U.S. Navy, they would occasionally refer to their smaller escort aircraft carriers as "Jeep Carriers" for their jack of all trades (or general purpose) role in naval formations.

While producing the vehicle under contract for the Army Ford Motor Co. classified the vehicles GPW potentially leading to the General Purpose (GP) moniker.
Earning The Jeep Name
Now that we have an idea of where the name Jeep comes from perhaps to next question to ask is did it live up to its General purpose origins? In short, yes it did, likely well beyond what it's designers had originally envisioned. When the first order for Willy's Overland Model MB was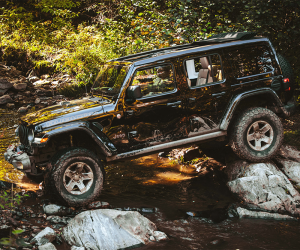 placed by the U.S. Army it was intended primarily for light cross country travel and only had three requirements; be light-weight, four-wheel-drive capable and be able to mount a light machine gun. By the war's end, the Jeep was filling roles such as command vehicle, medical transport, supply hauler, scouting duty, commando raider, message courier and VIP transport. This broad mission profile has carried over into its civilian life with each model providing a different take on that general-purpose role. For example, you can take the Grand Cherokee out for a night on the town and then just as easily take it out in the woods for a camping trip. Need to get some groceries on a particularly nasty winter day? Take the Gladiator and no snowbank will be able to stop you, and who can have a proper beach party without a Wrangler in attendance? No matter what situation you find yourself in, it's safe to say that a Jeep can probably get you out of it. Something the brand has been excelling at for over 75 years.
The problem with any good origin story is the difficulty separating fact from fiction, and while there is some anecdotal evidence that supports the long-held Jeep name being shorthand for GP, at the end of the day we'll never be able to tell for certain where the name came from and given the indelible mark that the name has left on world history and backroads worldwide it can be argued that the origin of the name doesn't really matter. What does matter, is the adventures that the brand has helped so many people experience over the years. Stop in and see what has made the Jeep name an enduring one.
Sources:
(1) https://en.wikipedia.org/wiki/Jeep#:~:text=Jeep%20etymology,-See%20also%3A%20Willys&text=The%20most%20widely%20held%20theory,become%20known%20as%20the%20Humvee.
(2)   https://militaryhistorynow.com/2018/11/30/what-the-hell-is-a-jeep-how-did-americas-favourite-army-4x4-get-its-name/
(3)   https://www.digitaltrends.com/cars/the-history-of-jeep/